Today, bright and early, we were off to meet with another local couponer over a cup of coffee. It was nice having a conversation, and a meal, with another adult! It was inspiring to learn that although our local paper does not have the coupon inserts in it, we CAN get our grocery bill lower!
After having a warm breakfast we ventured back into the blizzard to come back home, grab our ads, our coupons, our lists, and venture back out to get some shopping done.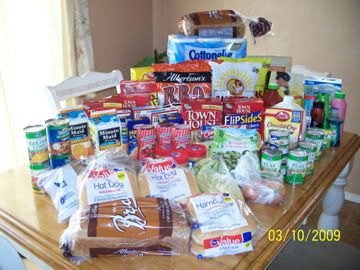 Spent: $53.01
Saved: $130.32
or
71%
In my figuring of savings I include the savings that comes with using the store's "preferred savings card," using coupons, and rebates.
Here is the breakdown of what we bought:
Albertsons:
2 Cans Swanson Canned Chunk Chicken, 2 Cartons Of Minute Maid, Bananas, 2 Bags Potato Chips, and 2 Loaves Of Bread
Walgreens:
12 Rolls Cottonelle Toilet Paper, 3 Jars Jif Peanut Butter, 3 Jars Smuckers Jelly, Aquafresh Toothpaste, Can Of Swanson Chunk Chicken, Garnier Fructis Shampoo-&-Conditioner In One, 4 Boxes Kraft Mac & Cheese, 2 Glade Lasting Impressions Starter Kits, Sambucol, Wal-zyr Tabs, Walgreens Extra Strength Quick Gels, and Axe Shampoo.
Smith's (Kroger):
12 Rolls Quilted Northern, Fruity Pebbles, 3 Boxes Hamburger Helper, 2 Cans Progresso, 2 Bags Hot Dog Buns, 2 Cans Corn, 2 Cans Sweet Peas, 2 Cans Green Beans, Can Of Swanson Chunk Chicken, Gallon Milk, Bag Green Giant Frozen Vegetables, 10 Pounds Potatoes, 2 Yellow Onions, 4 Boxes Townhouse Crackers, 2 Packages Sandies Cookies, and 2 Bags Tortilla Chips
Walmart:
Bottle of V8, Betty Crocker Cookie Pouch Mix, Good Life Cat Food, Kitten Chow, Suave Shampoo, Cascade Rinse, Pillsbury Cinnamon Rolls, and Box Honey Comb Cereal
The lady at our Smith's store was shocked at our total and said "No, that can't be right." Well she looked over the receipt to double check and once she realized it WAS right asked the Mister if he'd be keeping me! Haha, I love it!